The beginning of spring is an instant refresher for your life.
Spring rains wash away the dead of winter and bring life to the world again. The flowers start to bloom and little spots of green garner along the tree limbs.
Nature's revival has a tendency to motivate one to revive various areas of your life as well, hence the term spring cleaning of course.
As the days become warmer and longer, spring is the perfect time to overhaul your backyard and give it a makeover. You'll want to clear away winter's leftovers, replant, and tidy up your landscaping to prepare your backyard for summer's use.
Unfortunately, giving your backyard a makeover can not only seem like a lot of time, but might seem like a lot of money as well. However, you don't have to hire a landscaper or spend thousands putting in a new backyard sanctuary. Here are a few wonderful ways to refresh your yard this spring, all while staying on-budget.
Consider Your Space
Before jumping into a backyard makeover, it's important to consider the space you have and what you'd get the most use out of. If you begin without knowing, you're bound to spend more money and on things you might not use in the end.
Figure out what's important to you when it comes to your yard. Is it more important for you to have a pristine front lawn or do you want to create a patio or outdoor fire pit area in your back yard? Once you've figured that out you can begin researching all the ways you can go about completing those projects. The more time you spend researching, the more likely you are to find inexpensive ways to go about your yard projects.
Mulch is Your Best Friend
Throughout winter, your landscaping and flowerbeds tend to take a bit of a beating. One way to instantly refresh the look of your landscaping is to add mulch to all the exposed soil areas and flowerbeds throughout your lawn. Stick to one color to create a polished and uniform look to your lawn. On another note, mulch might also help you save in the future, since it's great for your plants and has a tendency to block weeds.
Get Creative with Your Plants
If you're going to overhaul your yard, your biggest expense is bound to be your plants. However, there are ways to create a lush and colorful yard without shelling out hundreds of dollars. Before heading to the nursery, a great place to start can be with a friend of family member whose yard you admire. If they have an abundance of flowers and plants, see if they'll let you take some cuttings to plant in your own yard. They'll grow just as beautifully as bulbs and seedlings and will cost you nothing. Buying your bulbs are an inexpensive option as well. You can often find tulips, lilies, and bearded iris bulbs for sale.
Another great option to reduce your plant expense is to plant perennials as opposed to annuals. Unlike annuals, perennials keep coming back and blooming year after year. Ergo, you won't be forced to start from scratch and buy all new inventory next spring.
Another inexpensive option to consider is ornamental grasses. While you can still opt for a few blooming plants, ornamental grasses are cheap and have the ability to make your yard look full quicker. Furthermore, they are a more contemporary option for many gardeners, which could give your lawn a more expensive look with costing you a lot.
Use Stones and Gravel as Accents
Anytime you add extra elements and accents to your landscape, you instantly give your lawn more pop and a more designer look. Stones, rock and gravel elements are all tools landscapers utilize to complete the look of your yard. Consider creating a gravel walkway on more barren or heavily walked on areas of your yard for an inexpensive and modern visual to your lawn.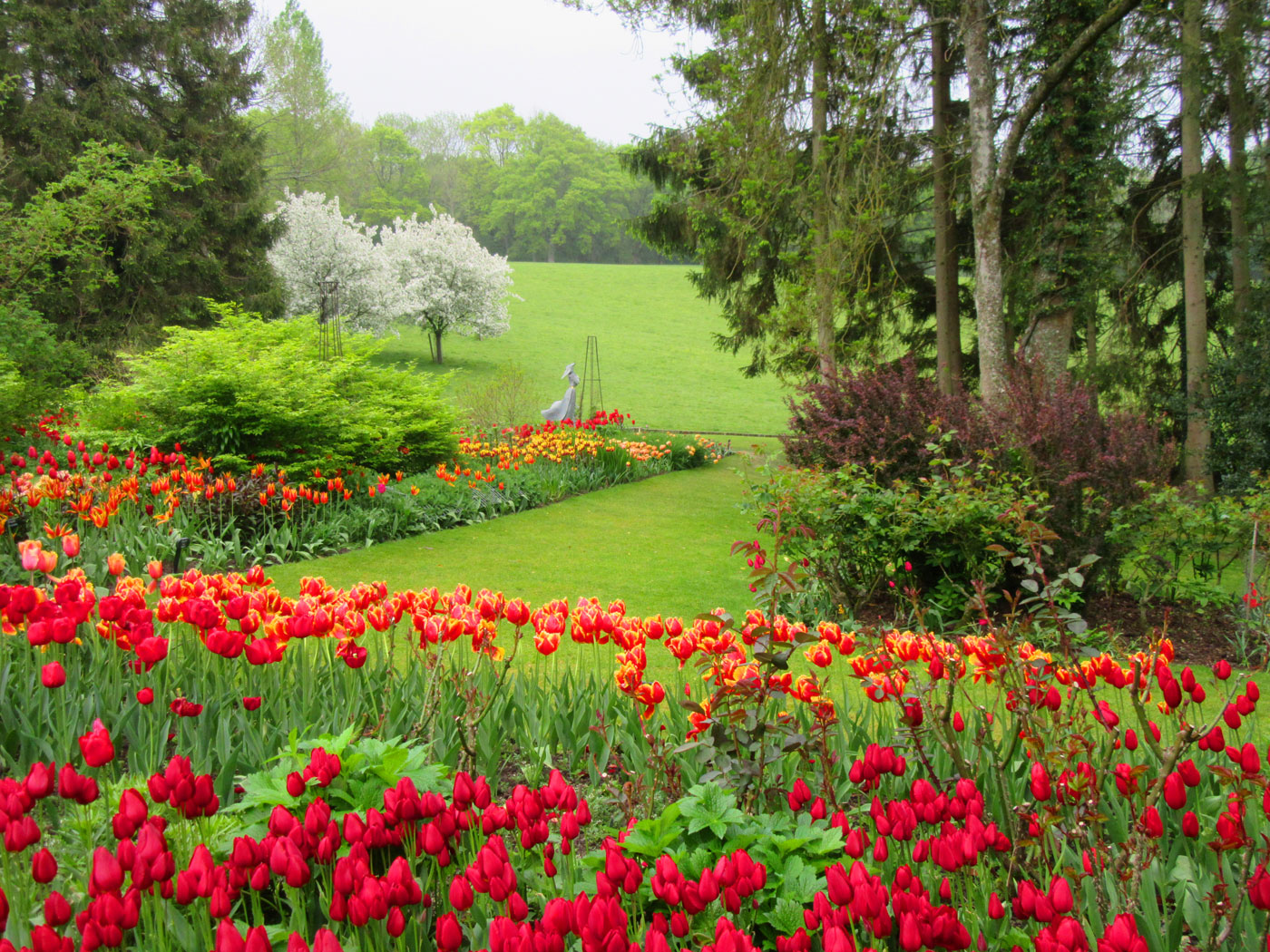 Moreover, gravel can be great for spots throughout your yard that have drainage problems. You can also give your yard a unique look by using stones or pavers and some type of creeping plant or moss to create a mosaic in your yard. By doing so, you'll save money and cover space that's in need of a touch-up.
Overhaul and beautify your yard this spring while sticking to your budget.
Click To Tweet
Get Free Knowledge Before Getting to Work
One of the best things about working with a landscaper from The Happy Gardeners is the fact that they often possess some much-needed knowledge for creating a beautiful yard and knowing which plants work best where. Unfortunately, their services also cost a lot. If you want to makeover your yard on a budget, but don't know where to start, gaining information is your first step. Find information in cheap and creative ways. Speak with your local nursery or a local garden club to gain ideas and gardening knowledge.
Furthermore, consider visiting your local library, bookstore, and of course going online, to find great resources and a wealth of plant information and inexpensive lawn options. Again, by researching and learning all you can beforehand, you'll know exactly what your path is going to be and save yourself from spending money on plants or materials that might not work for your yard.
Go Local
Instead of going to department or major corporate stores for all your supplies, consider utilizing your local venues instead to save big. Examine gardens around town that you like to gain ideas, and again, see if they'd offer up any cuttings to start you off, you can find an affordable tree service in San Antonio to take care to everything for you. And visit your local nursery as well, as they might also offer you a better deal and great assistance. Purchase stones and gravel from local shops or quarries, as you'll likely receive them for a lot cheaper.
Lastly, consider borrowing or checking out garage sales for any gardening tools you might need; that way, you won't spend your whole budget on tools alone.
Your yard is an important element to your home, which is why making over your yard can make all the difference. Although it may seem like an expensive undertaking, there are many ways to overhaul your yard and refresh it for spring all while sticking to your budget.
What's the first thing you do to refresh your yard come spring? How do you find materials for cheap?